Checking the channels used by your wireless network and others nearby can help when troubleshooting Wi-Fi interference and performance issues. Even if poor Wi-Fi connectivity hasn't been noticed yet, it's a good idea to ensure wireless routers and access points aren't on the same channels, or on overlapping channels for the 2.4Ghz band.
Though Android doesn't natively show you channel usage of Wi-Fi networks, you can download apps that will show you, commonly called Wi-Fi stumblers, scanners, or analyzers. They also give you other useful information, such as the MAC addresses of each access point so you can better identify them and their signal strength in dBm values so you known their exact signal levels instead of just good, poor, etc. You can even use these apps to perform basic Wi-Fi site surveys during wireless LAN (WLAN) deployments, modifications, troubleshooting, or security sweeps.
Here are a couple free apps that display and analyze the Wi-Fi channels: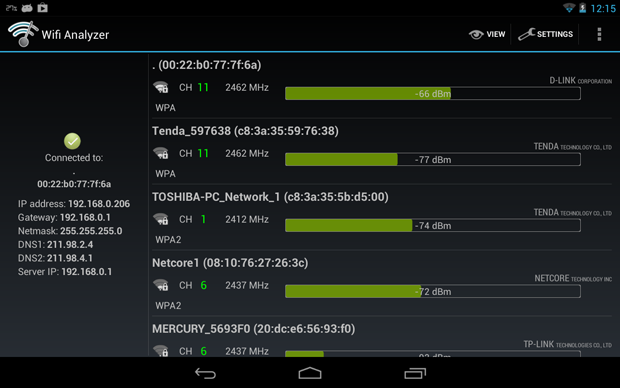 Though the exact features vary, most of these apps provide similar functionality. They list the network details of each access point: the SSID, MAC address, equipment vendor, channel, signal strength, and security method.